ChocoHot
ChocoHot One is a hot chocolate machine invented specifically for cake, ice cream and chocolate shops.
ChocoHot One attracts the attention of customers thanks to its stylish design, and can be used to top ice cream cones and tubs, to fill cups with hot chocolate drinks, to make pretty decorations etc.
You can personalise ChocoHot One by choosing different nozzles, each with a distinctive effect.
The nozzle can be changed in just a few seconds, for a different chocolate impact, and to ensure clients have a varied and interesting experience in your shop.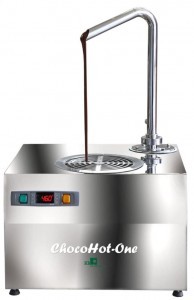 Chocolate melters
ANALOGUE SCIOGLICHOC are chocolate melters conceived and designed to dissolve, melt and maintain the temperature of the chocolate. Scioglichoc are composed of a durable plastic structure, removable containers and lids made of stainless steel, so as to ensure quick and effective cleaning.
Each chocolate melter uses a dry system to heat the containers on the bottom and sides, in order to obtain a uniform temperature of the chocolate.
Decor-Freeze
DECOR-FREEZE, thanks to the plate cooled up to -25°C, is the ideal machine to create decorations with chocolate.
The temperature of the plate can be easily set via a digital control in order to process chocolate in a perfect way, while its small size makes it ideal for any workplace. Just put the tempered chocolate on the plate and due to the low temperature created by the machine, the product will be easily processable and malleable. Create decorations with chocolate will become easier and faster, allowing you to give and add a touch of class to each cake and dessert. Decor-Freeze has many applications in both the fields of pastry and catering, allowing you to offer your customers more and more innovative desserts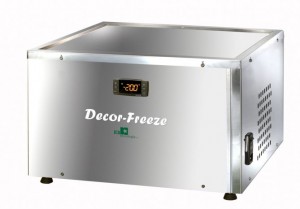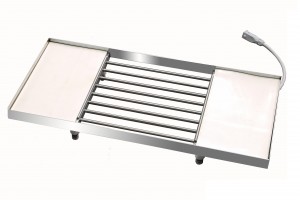 Vibrating table
Vibrating tables for chocolate tempering machines are available on request. You can choose from a vibrating tabletop bench on which you can place 3 chocolate moulds i.e. between three heated vibrating tables to be placed directly on the chocolate tempering machines of 10 Kg, 12 Kg, 24 Kg. They are the essential accessory for taking advantage of the potential of Chocotemper.
For more information, view the PDF below:
ICB Technologies Specifications