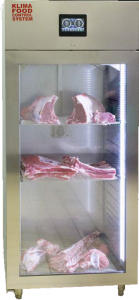 MATURATION, AGING, RIPENING, DRYING
In order to satisfy quickly the new requirements of the sector: multitasking equipment, simplified man machine interaction, flexible and fast process duration, higher performances, KLIMA Multi function includes in just one device a machine for aging meat, cold cuts and cheese, a dryer for pasta, fruits and vegetables.
SAVE SPACE AND MONEY
KLIMA KMFS is multitasking! It executes several functions for which you should normally need to buy many single machines, thus making you save money and space. It also makes the return on your investment very quick. You can buy the machine today to use just one of its functions, and in the future, if you need it, you will have the possibility to add optional extras and enable more functions.
Each function has got its preset programs, as well as other ones to be set up by the end-users.
FOR MORE INFORMATION, DOWNLOAD THE CATALOGUE BELOW