Appetising, fine grill score marks
These robust Beer electrical grills convince with their short warm-up times and very good heat output. The grilling area separated into various heating zones offers you great flexibility in barbecuing. The fine, appetising grill score marks as well as low requirement for oil and fat will surprise you and your guests.
Optimal grill results
All three Beer electrical grills have stepless temperature regulation up to 350°. With the compact dimensions of the grill, as well as the consistently generous grill area, the Beer electrical grills are ideal for everyday use and can be deployed on a mobile basis. They are perfect for all meat, fish and vegetable barbecues.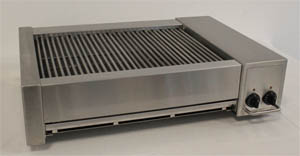 These are just a few of the many advantages you benefit from:
– Short warming-up time and very good heat output
– Stepless temperature regulation up to 350° C
– Ideally combined with the Beer Salamander
– Practical accessories such as fat splash protection and insertion grill
– Appetising fine grill score marks
– The grills are ideal for use on a mobile basis (for example catering companies)
For more information, view the PDF below:
Electric Grill Brochure