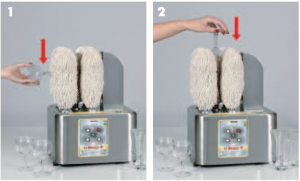 Glass dryers with five or eight brushes are ideal to dry all types of glasses. The drying system ensures maximum hygiene and gives a crystal clear finish, in addition to eliminating water marks and streaks. This eliminates all detergent chemical residues, leaving the glasses in optimum conditions and ready to be used.
USAGE
This machine is particularly simple to use. To obtain optimum results, follow this procedure:
• Wash the glass.
• Grasp the glass at the base and insert it into the central brush.
• Leave the glass in the drying position for a few seconds.
• For the flute glass, first dry the stem putting it between the brushes
(photo 1), than grasp the glass from the base to dry the cup (photo 2).
For more information, view the PDF below:
Nicem Glass Polisher