For Heated Chocolate
hotCHOC is the unique food gun in the market designed specifically for spraying heated chocolate cocoa butter mix! Developed in close collaboration with Barry Callebaut UK the hotCHOC is also the perfect assistant to help you from prepping molds to creating a beautiful velvet/frozen effect.
The special heating unit and insulation sleeve encasing the nozzle keeps the chocolate fluid and the container insulation slows down the materials rate of cooling The 40 W power settings and nozzle piston sizes enable a thin layer of material to be sprayed, with minimal overspray or noise compared
to other sprayers and air brush systems.
This purpose built handheld electric chocolate sprayer can be used for final coverings, prepping moulds, speckling pralines or adding decoration or thicker layers to cakes etc This is a 'must have' tool for any professional chocolatier, artisan or pastry chef
For more information, view the PDF below: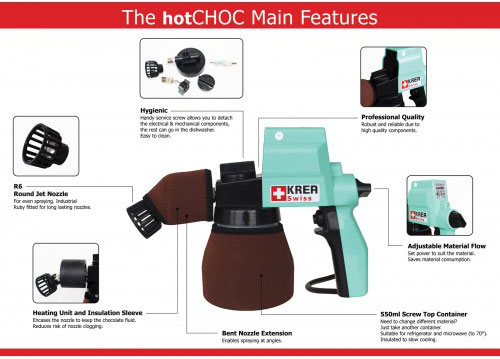 Advantages
• Solves clogged nozzle issues or need to keep heating with a hair drier or blow torch.
• Work for up to an hour without needing to reheat the container due to the insulation.
• Localised spray pattern minimal overspray.
• Simple, reliable and easy to use no compressed air needed.
• Uses only Food Grade materials.
• This reduced power setting also allows you to create wonderful ' effects without blasting your masterpiece off the table.