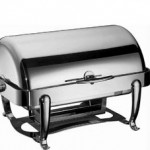 Rondo Chafing Dish
Chafing dishes in the RONDO line help create an atmosphere of refined elegance at any exclusive buffet. Lid opens and closes easily and quietly thanks to the built-in lid brake. An integrated system channels condensation back into the water pan. An additional supporting frame allows the use of inserts up to 10 cm deep.
For more information, view the PDF below:
Rondo Chafing dish Catalog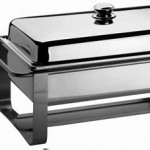 ECO Chafing Dish
Spring's ECO line shines in terms of technical perfection, faultless workmanship and timeless design: the keys to a long working life.
For ease of use the open lid can be placed at the back; condensation flows into the gutter The lid can also be placed to the side to save space. ECO chafing dishes are easy to stack for storage or transport. The tip-up function holds the roll-top lid open to allow easy swapping of inserts.
For more information, view the PDF below:
Eco Chafing Dish Catalog