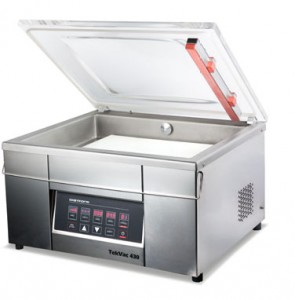 A full range of vacuum packers that includes the most advanced technology on the market. Conceived and designed in collaboration with leading chefs involved in the application of cooking techniques and management systems. With the TekVac you can achieve perfect vacuum packing, with the maximum sealing guarantees. The food will be properly cooked or preserved in the bag due to the absence of oxygen. This prevents the propagation of aerobic bacteria and ensures greater food safety.
Accessories
-External vacuum accessories
-Gastronorm vacuum tray
-GN 1/1 and GN 1/2 tray lid
-Table with castors for packing
-Liquid packaging accessory
For more information, view the PDF below:
TEKVAC Catalog
Intelligent Vacuum
The newly patented iVac (Intelligent Vacuum) reduces the maintenance, repair and consumption costs of your packer. The iVac provides sensor controlled TekVac packers with an intelligent packing system that automatically ensures an optimum vacuum seal for each product. iVac is ideal for packing liquids and moist or porous foodstuffs. The iVac allows supervision-free packing and optimization of the packing cycle time, The iVac helps to make the routine work of chefs easier
Special sealing bar
"Packing in half the time" Thanks to the special design of the sealing bar, TekVac makes it is possible to pack two bags placed on top of each other in the same position. In this way, twice the number of bags can be packed in theClick edit button to change this text.