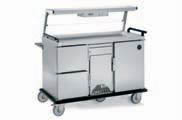 The 3 classics from Rieber for in-house food distribution – for any demand.
The Regiostation is the multifunctional all-rounder in food distribution: Transport, storage, regeneration and service.
The food transport and delivery trolleys – for a safe food distribution chain. Transporting and serving with one trolley
The different types of this multifunctional transport, storage, regeneration and distribution system stand out thanks to their quality, a varied range of accessories and an intelligent
electronic control system that allows meal plans to be programmed for a 7-day period. Also suitable for individual portioning for diets. The food that has been placed in GN
containers is kept cold or hot and transported to the ward kitchen or into the dining hall, either directly with the Regiostation or with its transfer trolley.
For more information, view the PDF below:
Rieber Food transport cart Brochure