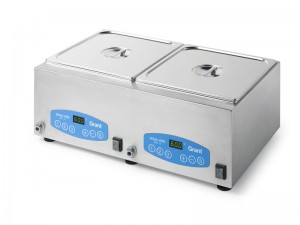 Sous vide is a long established but relatively little known cooking process in which food (e.g. a cut of meat) is vacuum sealed in a pouch with/without an accompanying sauce or seasoning and then cooked at comparatively low temperatures (typically around 70°C) for relatively long periods of time. Sous vide cooking methods, increasingly popular with professional and amateur chefs, have opened up a new culinary world of inventions and experiments. The exciting range of dishes cooking at precise temperature for the right amount of time give a perfect result in flavour and consistency.
Grant sous vide baths are highly regarded for providing excellent temperature control, yet offering a solid, contemporary and versatile range of equipment. We have developed a Professional range for those just venturing into the world of sous vide cooking and Expert range for those at the cutting edge of sous vide and scientific cooking techniques. For busy, space conscious kitchens or for those looking for more flexibility, Grant offers the universal stirred heater – SV100, for attachment onto virtually any vertical sided vessel.
Advantages
» Enhanced taste and added nutritional value: The juices and nutrients are 'locked in' the vacuum-sealed pouch. Flavour is amplified as food cooks in its own juices » Consistency: Every dish is the same, every time
» Advance preparation and storage life: Food portions can be prepared in advance, vacuum sealed and stored in a refrigerator for comparatively long periods of time – ideal for coping with the peaks and troughs in activity and for master kitchens supplying 'satellite' kitchens
» Space saving: Sous vide cooking takes up relatively little space, ideal for kitchens where space is at a premium
» Cost control: Enables high-volume turnover with minimal labour resources. Great portion control and less wastage due to enhanced storage life.
There are 3 range of Sous Vide, Professional Range, Universal Stirred Heater and the Expert Range.
For more information, view the PDF below:
Grant Sous Vide Brochure