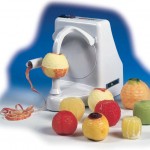 Professional Peeler
Precise peeling of apples, kiwis,tomatoes, oranges, lemons and peaches.
Full automatical peeling procedure
Adjustable peeling- thickness.
Peeling time / fruit: 10 – 20 Seconds.
For more information, view the PDF below:
Professional Peeler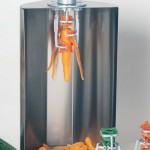 Carrot & Cucumber Peeler
Peels carrots and cucumbers in seconds, easily, precisely and secure.
Spares up to 80 % time.
Easy changing of peeling units.
If necessary, the blades can be replaced one by one.
Splash protection made of stainless steel.
For more information, view the PDF below:
Carrot Peeler