Save twice the space with the only collapsible plate stacker in the world. Only Plate Mate is able to allow for the impossible with the Collapsible. The three available models have been specifically designed for lease, catering businesses and companies with very limited space. The models can be folded after use, and hang on the wall or be stored in a corner. All models are stainless steel, both the tubular frame and the casters (two of which have brakes). A cover to prevent dehydration and odor is available for every model.
Featuring New Platemate Heavy Duty Model:
PM 84 STANDAARD IKE CODE 110
PM 84 HEAVY DUTY COLLAPSIBLE CODE 400
PM 126 HEAVY DUTY CODE 426
PM 48 HEAVY DUTY CODE 448
PM 72 HEAVY DUTY CODE 472
PM 84 HEAVY DUTY CODE 484
Featuring New Platemate Wall Model with different colors:
WM 12 DESIGNLINE WALLMODELS CODE 401 STAINLESS STEEL
CODE 402 RED
CODE 403 WHITE
CODE 404 BLACK
CODE 405 NANO RED
CODE 406 NANO ORANGE
CODE 407 NANO YELLOW
CODE 408 NANO GREEN
CODE 409 NANO BLUE
Featuring New Platemate Bottle Holder:
WM 14 BOTTLE HOLDER CODE 414 STAINLESS STEEL
For more information, view the PDF below:
Table Model
Collapsible Model
Standard Model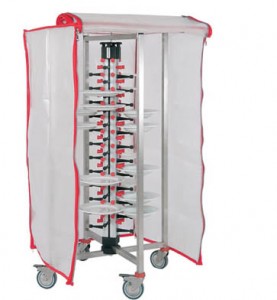 Thermo-cover
The thermo-covers were created specifically for the Plate Made, allowing for the storage of cold food in the refrigerator, such as fish, salads and desserts. As soon as the food can be served, you get the Plate Mate from the refrigerator, after which it can be served.
The thermo-cover realizes a temperature between 4 and 6,5 degrees Celsius for a period of 2 hours, at a room temperature of 20 degrees Celsius.
In addition, the thermo-covers allow you to keep hot food at the right temperature for 15 to 20 minutes.