ChocoHot
ChocoHot One is a chocolate dispenser invented specifically for cake, ice cream and chocolate shops.
ChocoHot One attracts the attention of customers thanks to its stylish design, and can be used to top ice cream cones and tubs, to fill cups with hot chocolate drinks, to make pretty decorations etc. You can personalise ChocoHot One by choosing different nozzles, each with a distinctive effect.
The nozzle can be changed in just a few seconds, for a different chocolate impact, and to ensure clients have a varied and interesting experience in your shop.
For more information,download the below brochure
ChocoHot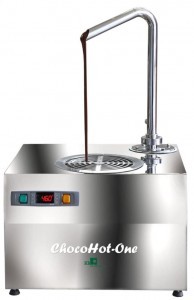 Specifications
Capacity of the bowl: 5.5 Kg

Voltage: 110/240 V

Power: 0.95 Kw

Weight: 37 Kg

Dimension: 39x46x83h cm

Code: 14.1.CHOCOHOT
For more information,download the below brochure
Scioglichoc Analogue
Chocolate melting machines
ANALOGUE SCIOGLICHOC are chocolate melting machines conceived and designed to dissolve, melt and maintain the temperature of the chocolate.
Scioglichoc are composed of a durable plastic structure, removable containers and lids made of stainless steel, so as to ensure quick and effective cleaning. Each chocolate melter uses a dry system to heat the containers on the bottom and sides, in order to obtain a uniform temperature of the chocolate.
The Scioglichoc analogue chocolate warming machines control the temperature of the chocolate with an analogue thermostat. The chocolate melters are available in different sizes.