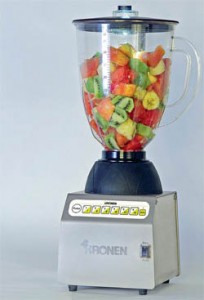 Blender
Choose the Kronen blender for long-life-performance. Every part is of high quality made in Germany and Switzerland. And cause there is nothing better- machine housing inrobust stainless steel. For example the KM-4 S with continuous, variable speed setting up to 15.000 r.p.m.
Whip up perfect results in no time!
Produces stable and perfect foam even with
soups and sauces.
For more information, view the PDF below:
Kronen Blender Brochure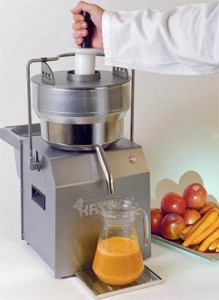 Juicer
A proper commercial juicer should be:
– Robust and strong
– High-efficient, but silent
– Safe and easy to handle
– Hygienic and easy to clean
… and if possible made in stainless steel.
We made it to our business and the result is the heavy-duty KE-5500.
20 to 30% more output than other regular juicers due to a powerful motor operating with 5.500 r.p.m. The extra wide feed tube ensures less precut work. Most important: The result is a perfectly pure juice and a notably dry pulp. The low noise level allows operating right in front of the customer. Of course the KE-5500 is conform with actual CE regulations.
For more information, view the PDF below:
Kronen Juicer Brochure