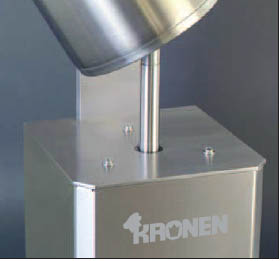 Vertical Cutter
There are good reasons why chefs from the "Olympic Cookery Games" demand Kronen cutters. Because the results have to be top range. Handling the equipment needs to be easy and straightforward without any gimmicks.Quality and hygiene have to be of truely olympic standards. Here you can see what our Kronen cutter looks like: Entirely made from stainless steel, extremely durable, a device to wipe the bowl, and with exactly the right blade cut.
Chefs don't buy a cutter, they buy a NAKO. For 25 years it's been a household name for quality, power and reliability. Two speed settings: 1500rpm and 3000rpm, bowl wiper – and the installation and cleaning is child's play.We have to admit:We didn't invent the cutter – but as you can see, we've made  the best of it! Mixing results like never
For more information, view the PDF below:
Kronen Vertical Cutter Brochure
Kronen Watermelon cutter
Because melon plus service makes profit!
Quickly and safely cut melons into equal slices.
Precise blade movement, blade guard with locking mechanism
Dimensions: 240 x 530 mm (W x D)
For more information, view the PDF below:
Kronen Watermelon Cutter
Stick Cutter
Stick cutter 10 x 10 mm for carrots, Kohlrabi, celery, radish etc.
Vegetable sticks are a top product for your convenience- fridges in the supermarket.
Dimensions: H 350 x L 250 x D 435 mm
For more information, view the PDF below:
Stick Cutter
Pineapple Processor
Fresh Pineapple a single machine for the whole process!



For more information, view the PDF below:
Kronen Pineapple Peeler Brochure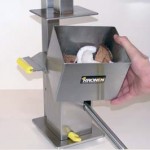 Coconut cracker
Cracking coconuts?
Forget the hammer and chisel.Because now it takes only seconds with the KRONEN coconut cracker KN-100.The skin is cleanly removed from the flesh.
Needed: 30 – 60 seconds.
For more information, view the PDF below:
Kronen-Coconut Cracker